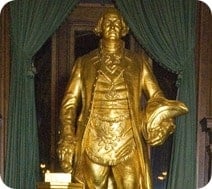 In the spirit of George Washington's 280th Birthday tomorrow, I would like to pay homage to his leadership, work ethic, and ideology. Anyone who knows me knows that I am a big fan of The General, a term that I adopted after hanging out with a good friend of mine, Dr. Barry Mennen. In my opinion, George Washington may be the most impressive American in our country's history. There are things he did that we take for granted due to where we now sit from a societal and technological standpoint. Because of these, Washington has been elevated to heights only dreamt about by today's leaders. While some of these tales are true and others are 'embellished', one thing is undisputable – Washington was a leader to the nth degree and good leadership is something which no firm or country ever seems to have in surplus.
Lesson #1: Honesty is the best policy and Americans hold it in high regard. It's making a comeback.
One of the most famous stories about The General is of him as a boy who chopped down his father's cherry tree and then came clean when confronted about it. "I cannot tell a lie" has been used by more parents than possibly any other lesson taught. Just about every American child grows up hearing this story – and it's not an accident. People want honesty in their lives and if you are the one to deliver it then they will look favorably upon you.  The salesman that is straight with you, the vendor that dissuades you from spending more than you have to, and the bank that advises you with YOUR best interest in mind are all akin to the Yeti: many people talk about these legends but few have actually put their hands on one. Look at how distrustful we are of certain industries as a whole; banking, finance, real estate, auto mechanics, dry cleaners. It's going to take a long time to repair the damage done by a small percentage of individuals. It's easy to lose trust. Don't mess around with it.
Lesson #2: if you are respected enough by enough people then you will become bigger than who you are.
Ironically, there is much speculation that the cherry tree event never really happened and that relatives and friends told writers this story after Washington's death. This isn't hard to believe since the man was revered by so many. It seems completely plausible that he would cop to the charges of tree homicide given his track record of honesty and integrity throughout his life. There have been many legends about Washington that were even more fantastic such as the rumors of him coming back from battles with bullet holes in his jacket but be unharmed. Although these may, in hindsight, take credibility away from the legend as detractors would roll their eyes at such a story it doesn't touch Washington's credibility in the least. After all, he didn't tell these tales, his men did. All they are guilty of is being Washington fanboys.
The thing is, as these legends grew, it made Washington more and more effective in doing his job. On the battlefield he was feared. As a diplomat he was taken seriously. As President he was respected and emulated. He didn't get this reputation by accident. He led by example and inspired those around him. They wanted to BE LIKE HIM. Gandhi said, "Be the change you want to see in the world." I think he was taking a page out of The General's playbook here.
Lesson #3: Sometimes you have to put it all on your back and do it. That's what leaders do.
We often hear that 'a leader does more than others' and Washington was no exception. In the famous Battle of Princeton, Washington once again proved to his troops why he was the man they always heard stories about. When his men were retreating and the situation looked its most bleak, Washington stepped up and rallied everyone by calling the charge and leading the troops back into battle to be victorious over General Cornwallis – the most respected General in the British Army. This was a major milestone in the war.
Nobody wants to do it all but sometimes, when necessity dictates, you have to do things you normally wouldn't do. Sometimes you may have to do some dishes or work the sales floor. Who cares if you are the owner? Nothing should be beneath you. I've been in too many organizations that the "leaders" expect this of everyone but they themselves are too good to make a cold call or stock a shelf. How can you possibly expect those you put in leadership positions to act as real leaders when you yourself are not leading by example? It is not their fault, it's yours.
Lesson #4: Respect your competition or you may be the one sending your sword out for surrender.
At the onset of the Revolutionary War, Cornwallis was regarded as one of the most effective military minds in the world. He had a reputation for success. Even though he knew Washington and was well aware of his abilities, he didn't really have a solid understanding of exactly what he was up against. He had never experience guerilla warfare and had no idea how Washington's network was running. In fact, Washington had a very elaborate network of spies in place shuttling intelligence all over the colonies in an effort to stay one step ahead of the British. He knew he couldn't take anything for granted. After the battle of Yorktown, Cornwallis wouldn't  personally surrender his sword to Washington out of embarrassment. He sent one of his subordinates out to do it for him.  History tells the rest of the story.
At the end of the day, you have to make sure you are giving your competitors credit where credit is due. If they are on your radar then they are there for a reason. Competitive intelligence and a sense of humility are your weapons today. Don't become MySpace, Iomega, QuarkXPress, or "the best restaurant/bar in the neighborhood" that were so arrogant to think that nobody could possibly supplant them. I guarantee, if given the opportunity, they would all do things differently starting with their attitude toward their competition.
Lesson #5: No man is an island and all great success stories have a cast of great supporting characters.
As big a fan of The General as I am, I always try and keep some perspective on things. Washington accomplished much over his career. When you listen to many of these stories, you will time and time again hear the names of a list of supporting characters who are almost equally famous. Men like Benjamin Franklin, Samuel Adams, Paul Revere, and Gilbert du Motier (aka the Marquis de Lafayette) were a large part of Washington's success. Washington was a master networker and had a talent for ingratiating himself with like minds. He would have never had the success he experienced if it weren't for the support of his colleagues.
You often hear phrases such as, "A President is only as good as his Cabinet" and "No man is an island" but few really listen to them. Surrounding yourself with the right people will always give you a better shot at achieving your goals. If you are lucky enough to be a person that others find to be such a person, then you should by all means put that to good use. Create your own Rat Pack and you will all succeed.
What does this mean to your business?
Realistically, this list should speak for itself. However, I think the big takeaway really is that good leadership leads to success. There are some people that excel in just about anything they do in life. Others pick a focus and stick with it their whole careers. One thing I observe time and time again is that with a distinct LACK of leadership there is an inherent LACK of success. I don't think I have dropped any groundbreaking correlation on you here but like some of my other posts (insert shameless self-promotion here) it's good to revisit these concepts and get back to basics. Do you have any leadership lessons you'd like to share? I'd love a comment below from you if you do.
Oh, and Happy Birthday General Washington! And thanks for the wisdom.
-PH