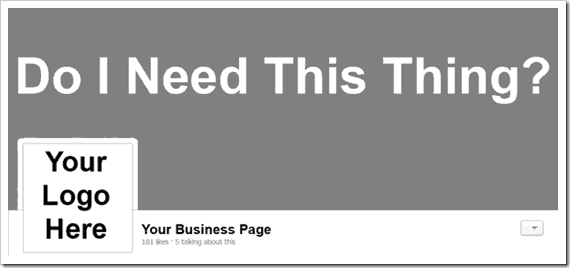 With the recent Facebook IPO and all of the hubbub about the company, I'm sure many small businesses are revisiting the question that they have asked themselves time and time again – 'Do I need a Facebook page for my business'? I wish there was a better answer but really my best is, "It depends". The good news is that there are a few questions you can ask yourself that can help you make your decision. To be honest, you can probably replace the term "Facebook" with any social channel such as "Corporate Twitter Account", "Google+ Page", "LinkedIn Business Page", etc. Admittedly, I chose Facebook for the title of this post for SEO value.

If your reason for having a Facebook page is any of the following than I would say you SHOULD have a page
Creating a local presence online where you can engage current and prospective customers
Increase a brand awareness
Create a resource to demonstrate a genuine investment in the area your business focuses on or the area where it exists
You plan on constantly maintaining and monitoring the page
A mechanism to drive traffic to a destination you own and control –  such as your website
You want to promote your business in a healthy way and not let it take over your personal Facebook timeline
These are all good reasons to create a page and I would advise you to do so. Maybe start small and set it up yourself to get things up and running. Invite all of your friends and ask them to spread the word about your business and support you. You will quickly find your voice and then you can determine if you need some third party product or service to get you to the next level. It's always smart to have a baseline reading though so don't just jump into something like this. It may create unrealistic expectations if you do so. Plus you will want to understand everything that is out there and that will take time. Patience is key here. This page is not going to save your business or affect your sales over night. It's Facebook, not magic.
If your reason for having a Facebook page is any of the following than I would say you SHOULD NOT have a page
Sell stuff on Facebook
My competition has one
You want a turnkey solution that you can set up and walk away
A substitute for your website
Create a second means of spamming your friends and family with promotions and news about your business
Although I think Facebook will embrace social commerce more in the coming years if it continues to garner the interest it has over the last 6 years, it's not there yet. Nobody is going to buy a house, car, or even a handbag off your Facebook page. There are very few pages that have any commerce element to them and those are custom made (to one extent or another) and expensive. There's a reason for this – people don't buy things on Facebook. There are far too many Facebook pages out there that are abandoned because people feel that they can just set one up and walk away. if you don't intend to maintain it, don't waste your time or the time of your network. It's also not a website, your website is a website. If you don't want to kill yourself putting a website up then set one up on WordPress. Website first, other things next. If a website is too much for you to handle then you shouldn't even think about Facebook. If you want a website and all of these things you will want to consider hiring someone to do it for you – but you will still have to put in some time to creating content and maintaining it. There is no 'set it and forget it' solution here.
What does this mean to your business?
A Facebook page can be a really great tool to have conversations and inform people who care about your business about what you've got going on. Restaurants, bars, retail stores, real estate brokerages, accountants, and doctors are all excellent candidates for Facebook if they are prepared to be patient and maintain it. If someone writes on that wall, you need to respond. To ignore it will do more harm than not having a page at all.  Before you roll your eyes, you as an owner don't have to do this yourself. You can hire a third party to do this but I wouldn't recommend that. You are better off using someone within your organization. With a minimal amount of training an admin or other employee can monitor and maintain this and just alert you about important stuff – such as someone trashing you up on Facebook. You can deal with it then. You may have someone on staff that actually wants to do it as well. Pay them a few extra dollars to own that responsibility and you may find that you have tapped into a great new channel to cultivate new customers and retain your current ones.
-PH