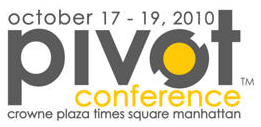 This week I had the privilege of attending the 2011 Pivot Conference. The whole experience was very positive and I am really glad I went. This year's focus was the rise of the social consumer. As you may know, the Millennials and Gen Y now make up a significant percentage of the marketplace and an even larger percentage of the digital space. These consumers tend to choose the Internet over traditional mediums that have worked so well for so many years. The challenge set before today's marketers – and all business for that matter – is:  How do you reach them? How do you communicate with them? How do you sell to them?  The purpose of this conference was to address these questions and although all of the answers may not have been found, you can be sure that some of the best and brightest minds across all industries turned out to further the conversation. One thing is for sure; business is aware of this challenge and the smart ones are taking it seriously. Here is a list of my unauthorized observations:
Brian Solis, in addition to being one of the thought leaders in the world with regard to social media and engagement puts on one heck of a conference. This event was perhaps one of the best put together that I have ever attended. So many details that other conference planners overlook were sorted out and nothing was neglected. Thank you, Brian, and your staff for doing such a bang up job.  Brian also has a new book that is out on shelves as of last Wednesday morning titled, The End of Business as Usual. He was kind enough to give us all a copy for attending the conference. So far so great.
It is a generally accepted theory that, right now, influence is nearly impossible to accurately measure due to all of the variables and the infancy of this science.
There are A LOT of companies trying to measure influence and analyze user preferences and behavior. Some, I think, are onto something and I suspect others are going to be gone in a year.
There is a very interesting rivalry developing between the early to market influence measuring tool, Klout, and a fairly new one People Browser/Kred. People are already starting to take sides and evangelize their respective favorites. While both companies' clear game plan is to sell enterprise tools to corporations, People Browser is much more overt about their pricing and intentions to monetize this technology. I think this makes Klout more of an end-user favorite.
Chris Heuer is one of the sharpest thought leaders in the online space. He really nails every statement he makes on the head. His panel on Spending Your Money in the Wrong Places evoked a number of dropped jaws.
David Armano is as cool in person as he is online. He also is an excellent panel moderator. He led the discussion titled "From Nobodies to Somebodies: Who Are the New Influencers". The apparent biggest takeaway from it was Klout's CEO, Joe Fernandez saying that people with Klout scores between 30 and 60 are the sweet spot for brands to pay attention to in terms of how they can help to promote that brand.
Adam Duritz from the Counting Crows has an outstanding grasp on the social ecosystem and how to not only navigate it but participate in it. His session was inspiring and enlightening. I was really surprised and impressed at the way he illustrated not just the success of The Counting Crows through social media but also his ideologies on how individuals, groups, and organizations should conduct themselves up online in general. He also went into the notion of long-term payoffs and it not always being about money. Given my observations of how other musicians approach social, my head was spinning after Adam's thoughts. And yes, I still have 'Omaha' running through my head as I sit and write this.
Charlene Li of Altimeter Group really earns her reputation as one of the brightest in the business. Her solo session on Disruptive Technology (one of my favorite topics in the world) had people rethinking the way they do many things in their business. This woman is brilliant.
Livefyre, although they have always impressed me, just continue to bring it. They have just expanded their functionality, obtained an increase in funding, and have some VERY interesting things in the works. If you have a blog, you need to give these guys at least a look. It's all very impressive, light, and more importantly simple.
Social media is really impacting just about every industry in the world. MLB's Bryan Srabian, Director of Social Media for the San Francisco Giants had some very interesting things to share in terms of how the relationship the Giants have with their fans in person vs. online is changing – and in some ways converging.  For some, the online relationship really extends the entire baseball experience to a year-round activity; transcending traditional media in ways never before possible.
Jeff Jarvis is one of the most honest people I have ever had the honor of meeting. He shoots straight from the hip and makes no apologies. He spoke about transparency in a way that turned some heads even in this room of pros.
Much of the discussion revolved around Twitter and Facebook. While other networks crept up from time to time these two still dominated the minds of attendees. I was pretty surprised that there was so little talk of Google+. Google itself was a fairly large topic but not their newest golden child. That was a bit of a head scratcher for me.
It seemed to be the overall consensus that the following, historically effective, tactics no longer are relevant in advertising:
Carpet-bombing is dead – you have to target your consumers and give them relevant messaging
Impressions are dead – pay per click is what you have to use at the very least
It's not enough to just be online and available – you have to do more in terms of engagement
Reactive efforts (for PR and advertising) – you have to get out in front of things or your are dead
Lastly, you don't necessarily have to be at a conference to participate any more.  Anne S. won the unofficial Best Virtual Audience Member of 2011. Anne engaged with so many people that folks at the conference noticed her and it was almost as if she were there.  This is a phenomenon not possible prior to social media. The great thing for me was that she wasn't pretending to be at the conference. She was very open about just following along. This just backs up the entire premise of the conference: Things have changed. How are you adapting to keep up?
-PH