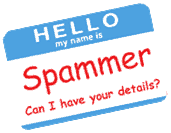 So I like Social Media – a lot. I love that you can connect with people you would normally never be able to through traditional channels, and you can do some pretty amazing things in the process. But, unfortunately, one of the things I have experienced – and I am not alone – is social media overload. With every network, it's generally same the thing. It starts off harmless enough and then becomes more and more involved with the more connections you have and the more sharing that goes on. One man's treasures are another man's trash, as they say, and some folks get upset with seeing pictures of people's lunch or some kid's first costume party.  Everyone wants to see only what they want to see. There is no good way around this besides being diligent with your lists, circles, etc. and altering your browsing behavior accordingly.  It all works but you really have to put the time in. I'm OK with all of this.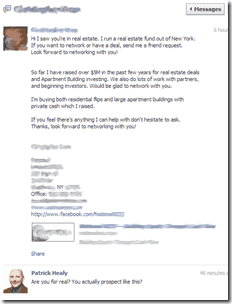 Then the marketers get involved and try to monetize you against your will. Keeping up with all of your connections is hard enough without having to deal with this. The problem is, there is not much you can do about it. These networks are free, public, and for the most part unregulated. What's more is that some of them, like Facebook, are actually set up to hit you with ads paid for by members using the data you give them to target you. That's another post though. Here's the thing. People hate these folks and are quick to block them (if they can)  when they become even the slightest bit annoying. Case in point, I got this email the other day. ——->
Really?
I have blurred out this distinctive information but you get the idea.  I have to say, I am a little disappointed in the effort put in. This person and I have friends in common on Facebook. It would be very easy for them to contact any of them and find out SOMETHING about me and feel them out to see if I was inclined to do work with someone of his expertise. Instead, I got a very sterile form letter from someone whom I have never met asking me to give him business.  This comes across as spammy even if it wasn't automated. IMO, this is not the way to do business on- or offline.  I feel my response was well-tempered considering how I really feel about these kinds of tactics. Clearly, I won't be doing any business with this person.
Social is no different than real life
I have always said that social media is not some magical panacea that will fix all of your business woes. To be honest, it's not much different from any other channel you may use to communicate with others.  If your efforts are disingenuous with a postcard, email, or tweet, they are still just that. If you are not a very exciting person in real life, you probably aren't going to attract that much attention online. You may be able to fake it for a while but people will eventually catch on. What makes people take notice of your message is rarely going to be the avenue through which it arrives; it's the relevance, sincerity and usefulness of the message. I don't think these things are hard to do. The real challenge is crafting that message and getting it to the right audience. Bottom line: carpet-bombing doesn't work.  Less than 20% of all TV ad campaigns have a positive ROI. This speaks volumes.
Why Social is better
The biggest difference between social media and all other forms of communication is that there is push and pull. You can actually create a conversation here and not just broadcast your message. It gives people a reason to listen and it gives you a way to make your adjustments while not flying blind. If done correctly, you can really tap into your key markets and have THEM tell YOU what they like, what they don't like and what's wrong with your products/services. If you care, they will become much more loyal than the customers you are used to. One company that does this really well is American Express. Tweet something to them and you will get a response.
So how do you avoid being "That Guy"?
Do your best to keep people happy and stay out of their spam box by remembering the following:
First and foremost, don't carpet-bomb. Nobody wants the junk mail/spam.
Secondly, tailor your messages to the audience you are sending them to. This may result in many different messages but that's OK. A decent CRM or snail mail/email marketing system can handle it. Your conversions rates will tell the story.
When you meet someone or capture their information, get as much as you can and make sure you understand it. Often this will give you all you need to tailor your messaging.
If you are reaching out to someone you have never met, do some research on them. Rapportive is a great little plugin for Gmail that will give you links to anyone's LinkedIn, Facebook, Twitter and many more networks. From there, it's a matter of clicking and reading. If after reading up on these folks you feel they are a good fit, then reach out with a message that they will relate to and let them know that you have done your homework.
Treat people like people, not leads. This is someone you hope to do business with but you never know where this relationship may go. They may be a partner or even family one day. Treat them like you want to be treated.
Photo Credit: pugetsoundblogs.com